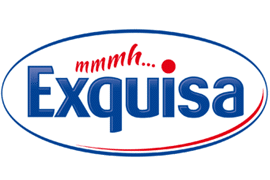 Exquisa is a range of Cottage Cheese and Cream Cheese, that has been available in Malta since 2010.
Exquisa is produced by Karwendel Dairy in Germany. The company was initially founded as a small family-run dairy in 1909. Since then, the company evolved into one of the best-known dairies in Germany and its products are popular across Europe.
All products are made with carefully selected ingredients to guarantee the exquisite taste that makes Exquisa so delicious. All ingredients are sourced from suppliers, whose product quality and performance are regularly checked.
Mmmh…Exquisa….the taste that's like no other!
Exquisa Cottage Cheese is a rich, creamy and tasty cheese. If you are looking for a quick snack or preparing a healthy meal, Exquisa Cottage Cheese is the right choice for you. It is a highly versatile cheese that can be enjoyed with fresh fruit, crunchy crackers, crispy salad, or simply on its own. It is naturally low in fat yet high in protein.
Exquisa Cottage Cheese is also available in Fitline, with less fat content. 
Exquisa Cottage Cheese Classic 200g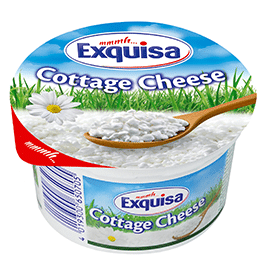 Exquisa Cream Cheese Fitline 200g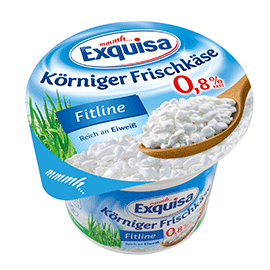 Exquisa Cream Cheese is a rich and delicious cheese with a creamy texture. Exquisa Cream Cheese is highly versatile. It is perfect as a simple and delicious spread on fresh bread. Exquisa Cream Cheese can also be used as an ingredient when making savoury dishes and snacks such as dips and sauces. It can also be used when making desserts as an ingredient to make cheesecakes, frosting and much more.
There should always be a tub of Exquisa Cream Cheese in the refrigerator as you can add it to almost anything!
Exquisa Cream Cheese is available in Classic and Fitline, with less fat content, and for those who want extra flavour, there is also Exquisa Cream Cheese with Herbs.
Exquisa Cream Cheese Classic 200g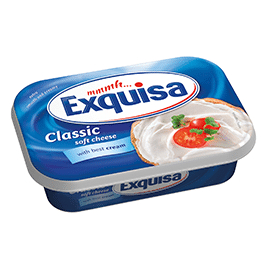 Exquisa Cream Cheese Fitline 200g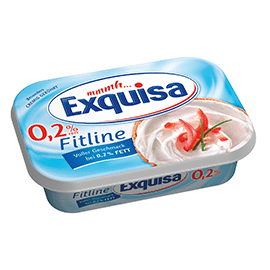 Exquisa Cream Cheese with Herbs 200g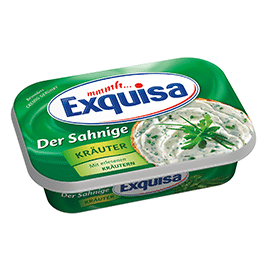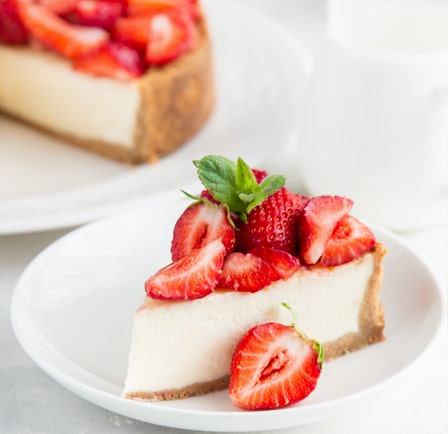 STRAWBERRY CHEESECAKE
Ingredients:
200g digestive biscuits
75g unsalted melted butter
300g Exquisa cream cheese
300g mascarpone
300g double cream
125g sugar
1/2 vanilla pod, seeds scraped
1 lemon, zested
400g strawberries
1 tbsp of sugar
Directions:
Crush the biscuits in a food processor or else place the biscuits in a plastic bag and use a rolling pin to crush the biscuits. Stir in the melted butter
Line an 18cm springform cake tin with greaseproof paper, then pour in the biscuits and press down firmly to create a flat, even base. Place in the fridge to set
Beat the cream cheese, mascarpone and sugar together until smooth and fluffy. Fold in the lemon zest
In a separate bowl, whisk the cream to soft peaks and fold in the vanilla seeds
Gently fold the cream into the cheese mixture until thoroughly combined. Be careful not to over-mix to ensure a light and fluffy cheesecake
Once the base has set, add the cheese mixture and flatten out so you have a nice even surface. Place in the fridge to set for at least 4 hours, or ideally overnight
Slice the strawberries into 3–5mm slices and toss with the sugar. This will give them a glossier appearance and juicier texture
Once everything is set and chilled, carefully remove the cheesecake from the cake tin and arrange the strawberries on top.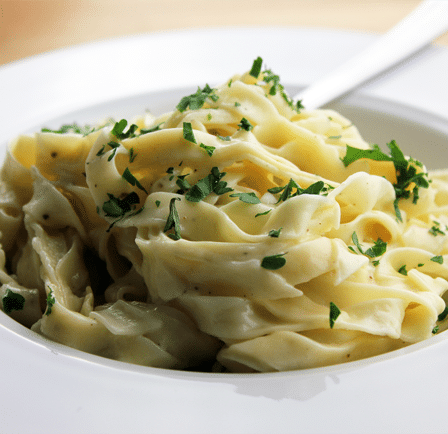 PASTA ALFREDO
Ingredients:
6 tablespoons butter
200g Exquisa cream cheese
2 cloves garlic, minced
1 3/4 cup milk
1 cup freshly grated Parmesan cheese
1/2 teaspoon seasoned salt
1/4 teaspoon freshly ground black pepper
Directions:
In a medium saucepan over medium heat melt the butter, cream cheese, and garlic together, stirring very frequently.
Add milk and whisk constantly until smooth and warm.
Add in Parmesan cheese, salt, and pepper and stir until thickened, about 5 minutes.
Serve over your favourite pasta.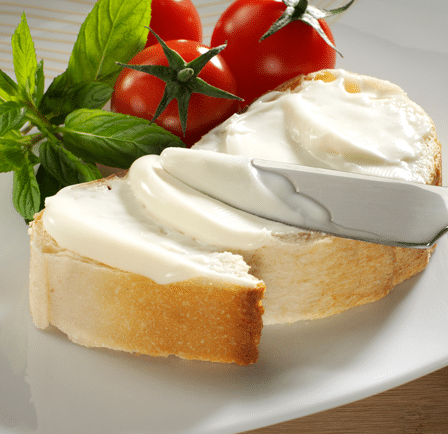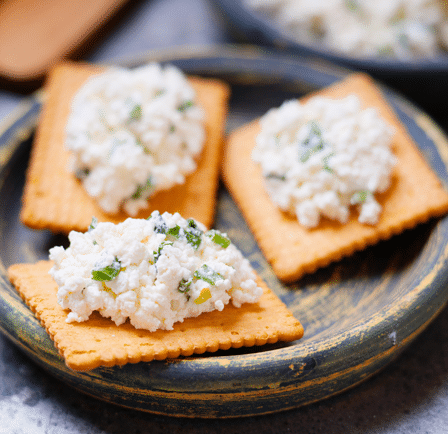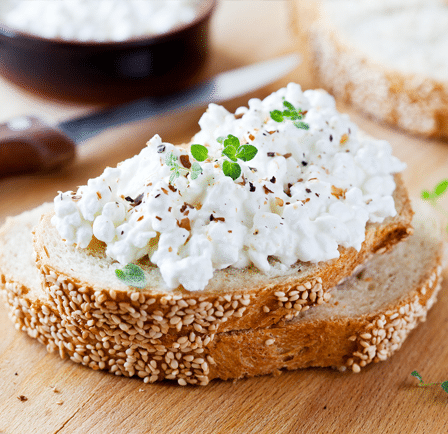 CONTACT US
Whatever information you're looking for, we're happy to help.
We would love to hear your opinions on the Exquisa brand.
Contact us on: