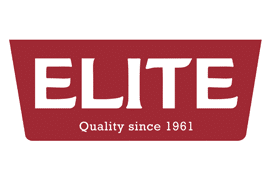 Elite is the market leader in skipjack tuna and is synonymous with quality and value.
It is a brand with a long history of producing good quality, great tasting tuna at affordable prices for over 50 years.
There are 3 ranges currently available under the Elite brand – Elite Tuna in Sunflower Oil, Elite Tuna Low Fat (in Brine) and Elite Tuna in Olive Oil.
It can be eaten on its own, as well as added to a variety of delicious recipes.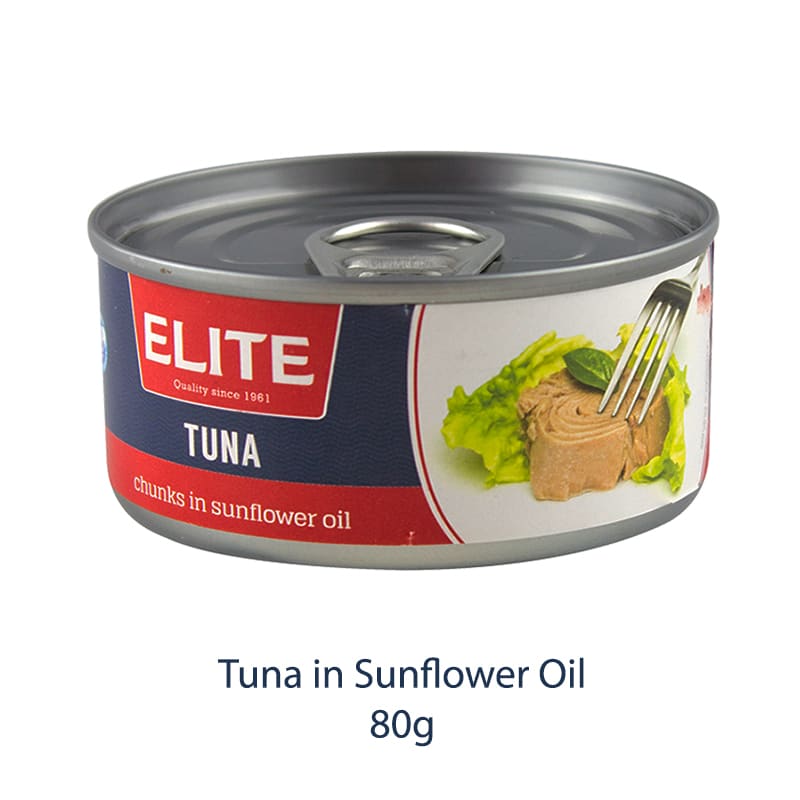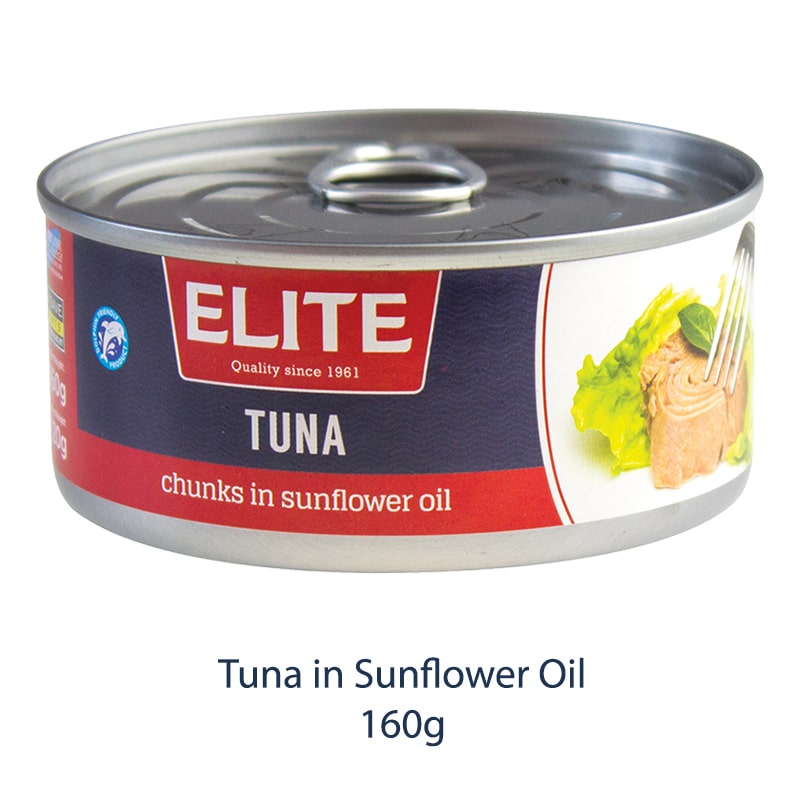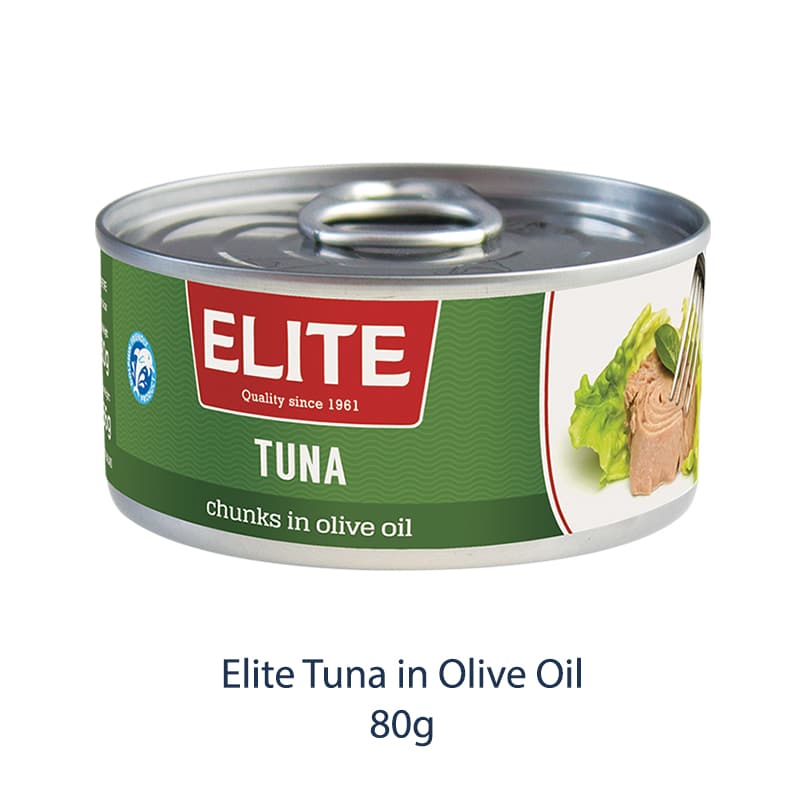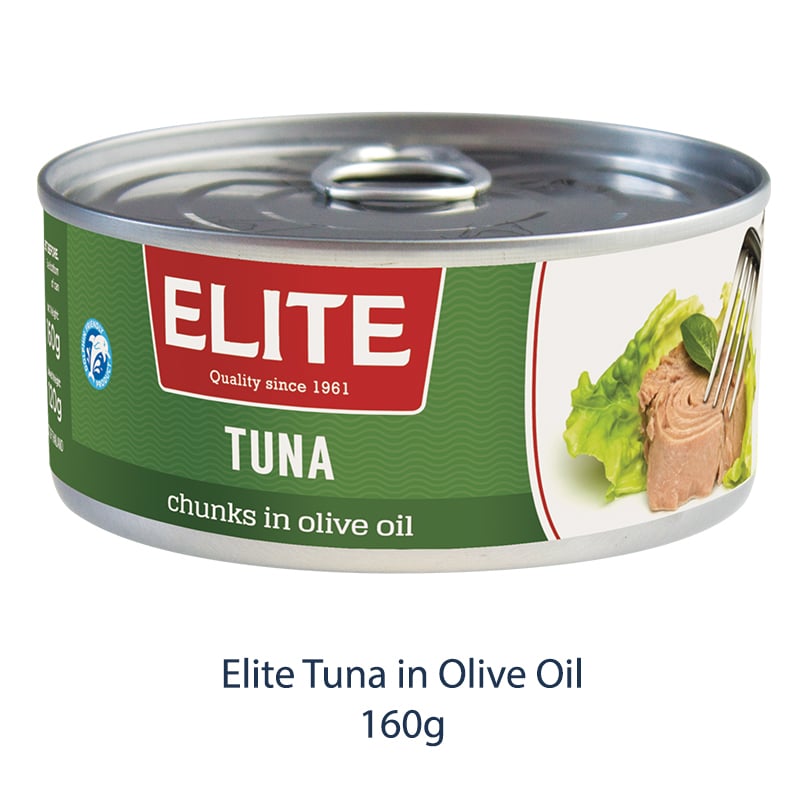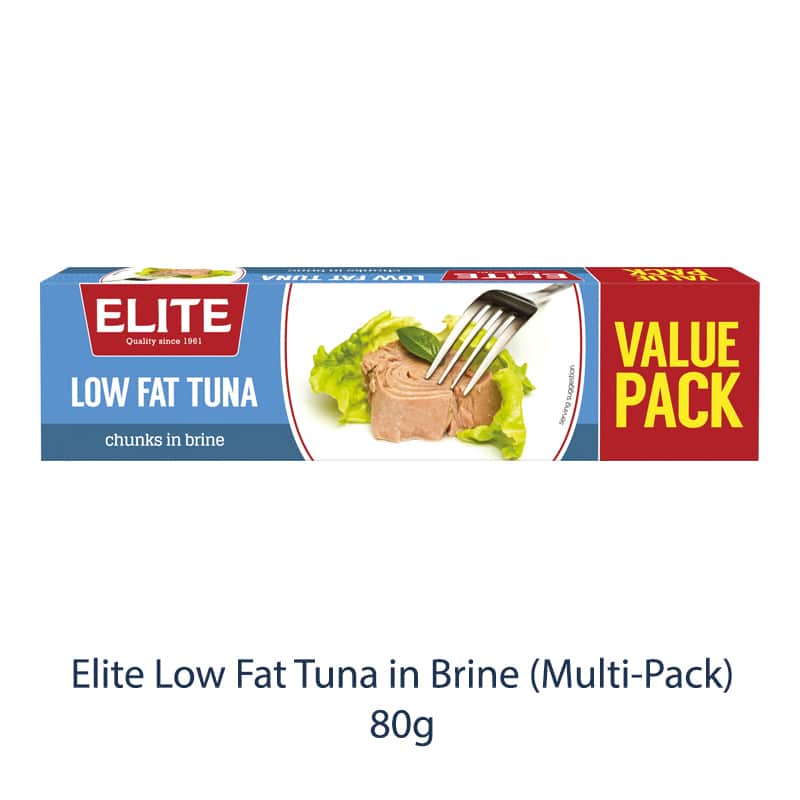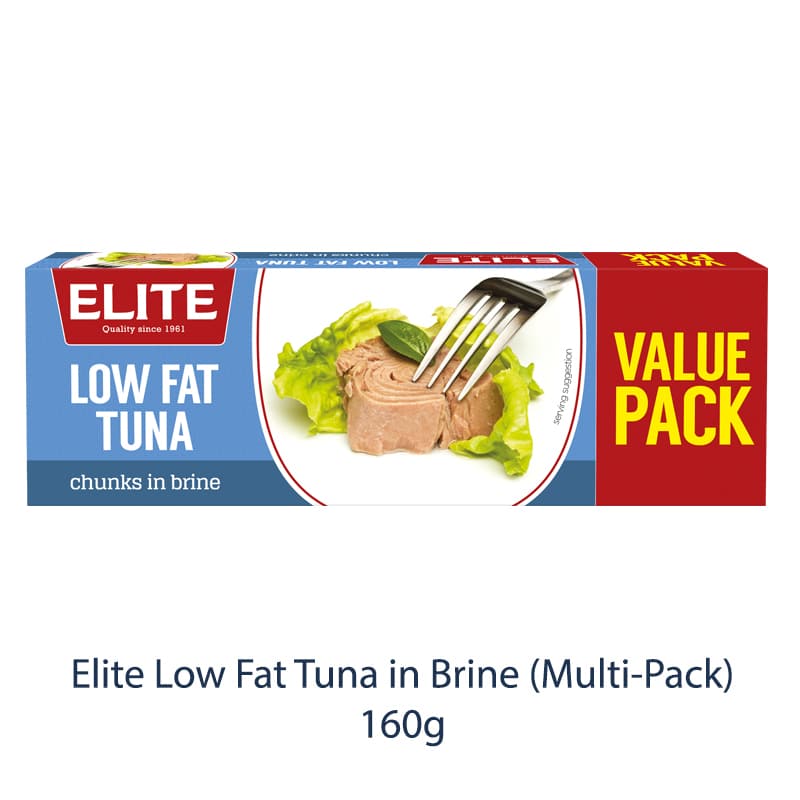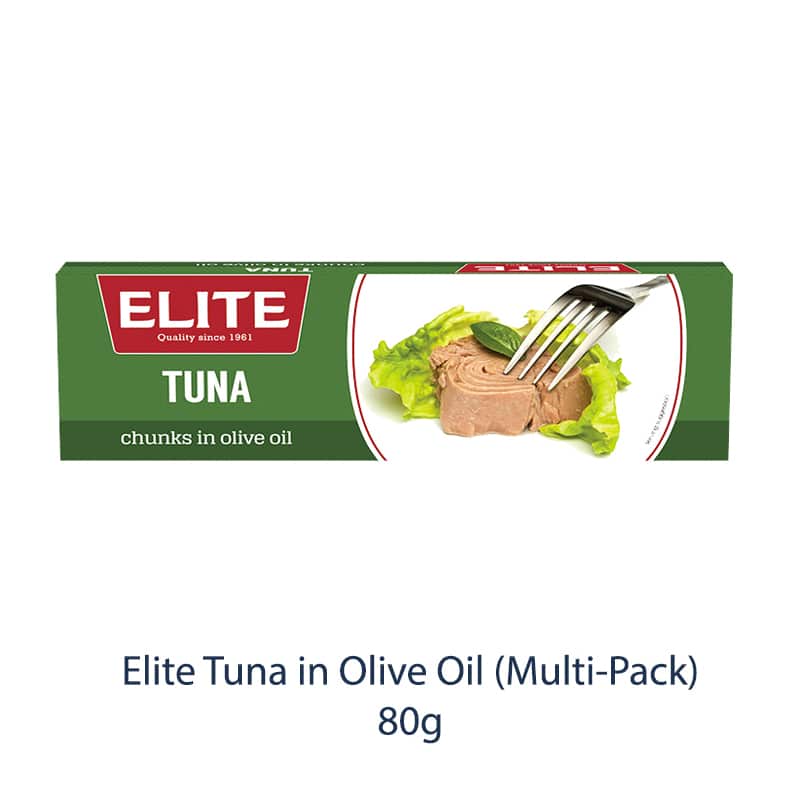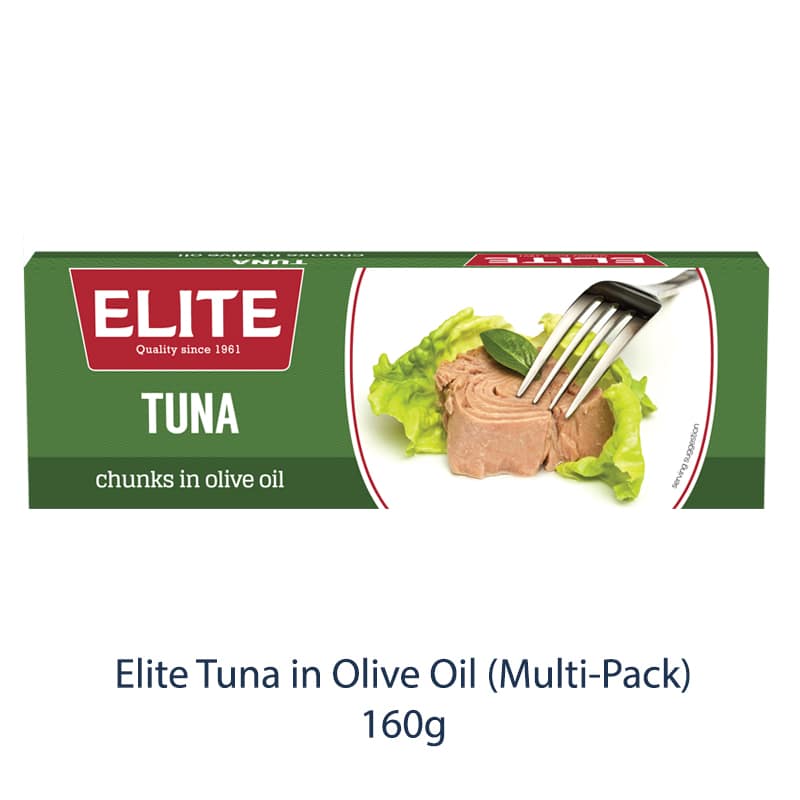 ELITE TUNA IN SUNFLOWER OIL
Great quality succulent tuna chunks in sunflower oil. This product is a perfect combination of the unique taste of our signature tuna and the delicate taste of Sunflower Oil.
Its light taste makes it versatile and ideal for a variety of dishes, be it pasta, pizza, salads, etc.
Available in single 80g and 160g cans.
ELITE LOW FAT TUNA
This Low Fat alternative is perfect for those seeking great tasting but fewer calories. It has a perfect balance of protein, vitamins and minerals with less than 1% fat.
It is ideal for light dishes using fresh vegetables, as well as various salads.
Available in 4-packs 80g and 3-packs 160g.
ELITE TUNA IN OLIVE OIL
Try Elite Tuna in Olive Oil for the premium taste of succulent chunks in Olive Oil. Aromatic olive gives tuna a rich flavour, tender texture and gentle notes of olives.
This delicious product is ideal for a variety of dishes – from starters to fresh salads, and other nutritious dishes.
Available in single 80g and 160g cans: 4-packs 80g and 3-packs 160g.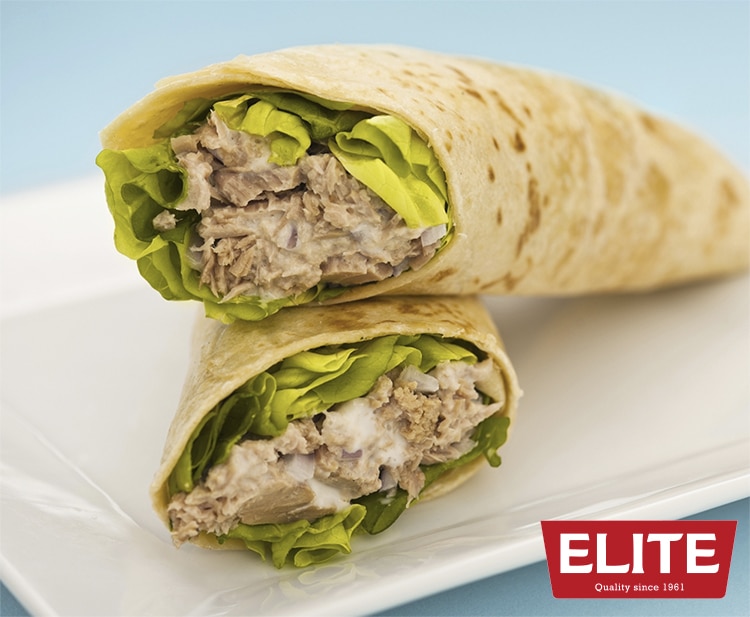 TUNA WRAP
Servings: 1-2 portions
Ingredients:
160g can of tuna, drained
1  (25cm) wrap
1 sliced tomato
sliced red onion (to your liking)
4 slices peeled zucchini (lengthwise slices using a vegetable peeler)
4 slices peeled cucumber (lengthwise slices using a vegetable peeler)
1 tablespoon artichoke spread or your favourite spread
1/2 cup mixed salad greens
Directions:
Place the tortilla on a plate and layer tuna in the centre.
Add sliced tomatoes, red onions, zucchini and cucumber.
Spoon on the artichoke spread and finish with mixed greens.
To roll, fold in both sides and roll away from you to form a burrito.
Cut in half and serve.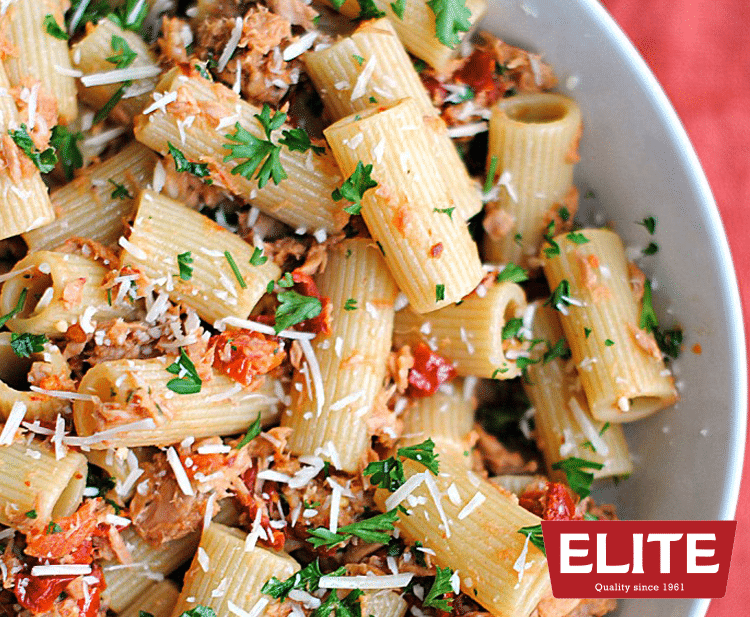 TUNA RIGATONI WITH SUN-DRIED TOMATOES
Serves: 4 servings
Ingredients:
2x 160g cans of sunflower in olive oil tuna, drained
8 oz. whole wheat rigatoni
½ cup shredded Parmesan cheese, divided
½ cup sun-dried tomatoes, packed in oil, drained and chopped
½ cup chopped fresh parsley, divided
1 tbsp olive oil
2 tbsp lemon juice
2 garlic cloves, minced
½ tsp crushed red pepper flakes
1 pouch chunk light tuna
Directions:
Boil pasta and cook according to package directions. Drain and set aside.
Meanwhile, heat oil over medium-high heat; add garlic and red pepper flakes, simmering about 1 to 2 minutes.
Stir in tuna, sun-dried tomatoes and lemon juice, cooking for an additional 3 minutes until tomatoes are tender.
Add pasta, half of the parsley and half of the cheese to the skillet, tossing gently.
To serve, divide pasta among plates and sprinkle each with remaining parsley and cheese, enjoy!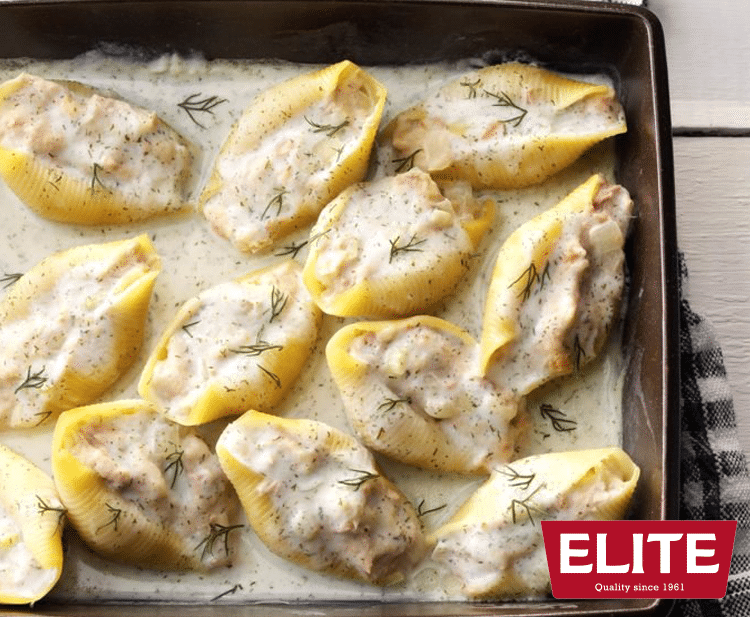 TUNA-FILLED SHELLS
Serves: 4 servings
Ingredients:
2x 160g cans of olive oil tuna, drained
12 jumbo pasta shells
5 tsp all-purpose flour
2 cups 2% milk
1 teaspoon dill weed
1/2 tsp salt
1 celery rib, diced
1 small onion, diced
1 tbsp canola oil
2 slices white bread, crumbled
1/2 cup reduced-fat ranch salad dressing
1/2 cup shredded part-skim mozzarella cheese
Directions:
Cook pasta shells according to package directions.
Meanwhile in a saucepan, combine the flour, milk, dill and salt until smooth.
Bring to a boil; cook and stir until thickened, about 2 minutes.
Pour 1-1/4 cups sauce into a 2-qt. baking dish; set aside.
In a non-stick skillet, sauté celery and onion in oil until tender. Add bread. Stir in the tuna, salad dressing and cheese; mix well.
Drain shells; stuff with tuna mixture. Place over sauce. Drizzle with remaining sauce.
Cover and bake at 350° until bubbly and heated through, 25-30 minutes.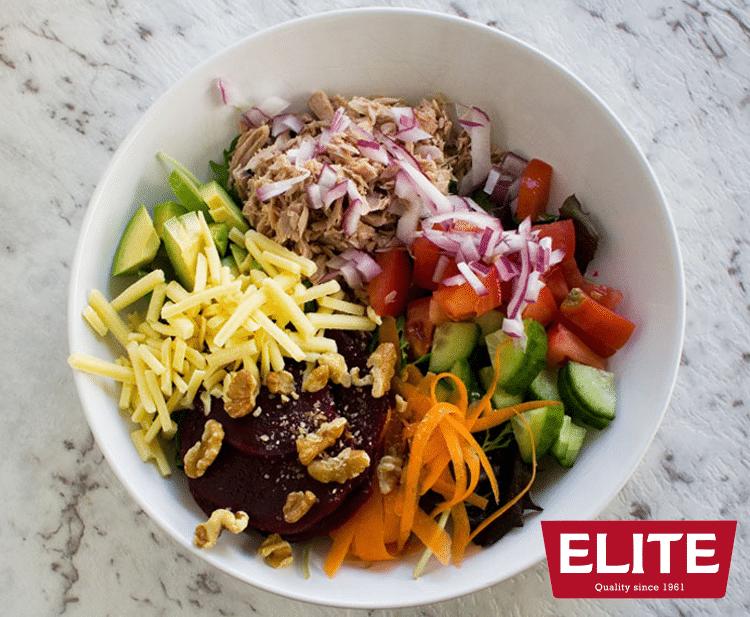 TUNA SALAD
Serves: 2 servings
Ingredients:
160g cans of low fat tuna, drained
6 handfuls lettuce or similar fresh green leaves
2 tomatoes chopped
¼ cucumber sliced
10 slices beetroot (canned or jarred is fine)
2 grated cheese
1/2 avocado
1/2 carrot grated or finely sliced (optional)
4 slices onion (raw)
2 handfuls walnuts crushed
Dressing:
2 tbsp extra virgin olive oil
1 tbsp balsamic glaze
To Serve (Optional):
Toasted bread with olive oil and sea salt
Directions:
Start by placing the fresh green leaves in the bottom of 2 big wide bowls.
Divide the tuna between the 2 bowls, then add all the other ingredients (apart from the walnuts and onions) next to each other in little piles.
Scatter the onion over the tuna and the walnuts over all the ingredients in the bowls.
Drizzle over the olive oil and balsamic glaze.
May be served with the toasted bread and mayonnaise.
Whatever information you're looking for, we're happy to help.
We would love to hear your opinions on the Elite brand.
Contact us on: